GameJobs.Ninja
Landing pages for GameJobs.Ninja's upcoming hiring platform for game industry professionals.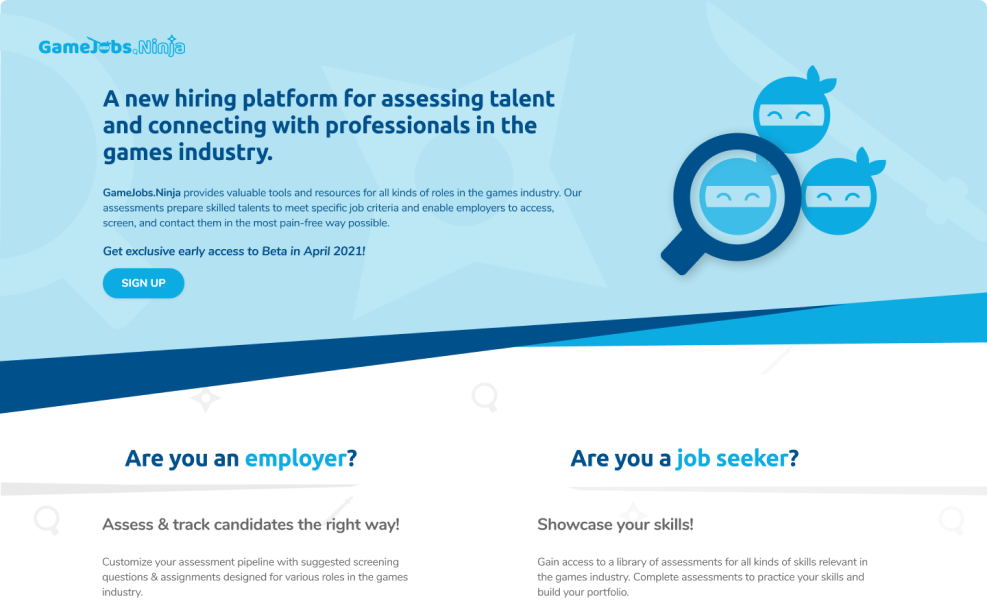 Overview
The Company: GameJobs.Ninja is an upcoming Vancouver-based tech startup that aims to provide a one-stop platform for hiring game industry talent.
Target Users: Hiring professionals (employers/recruiters) and job-seekers (designers, developers, producers, etc.) in the game industry.
My Role: UX/UI designer
Practices: UX/UI Design, Visual Design
Timeline: 12 weeks, January 2021-April 2021
Statement of Confidentiality
The visual samples within this section of my portfolio must remain confidential.

Permission has been granted by GameJobs.Ninja for this portfolio to be used as a demonstration of my work, but images of the project process and outcome may only be shared in a live setting to reduce the risk of duplication. Because of this, I will be providing a general summary of the project, as well as my role and responsibilities below.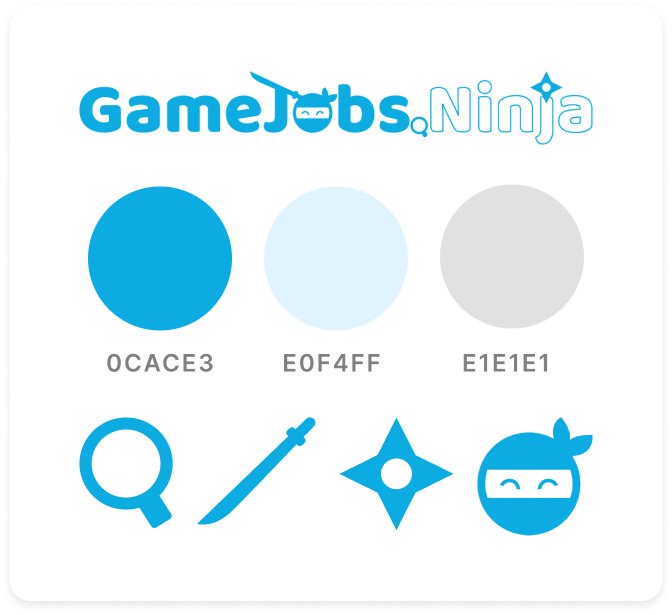 Design Challenge
How might we design engaging landing pages for GameJobs.Ninja's platform to encourage users to sign up?
Existing Design Language
At the time of the project, the team had a limited style guide and design system for me to use and refine.
Process & Summary of Work
My role focused on designing GameJobs.Ninja's web experience and visual design for the platform's landing pages and introductory screens (pre-sign up). On the day-to-day, I worked independently and received daily feedback from the CEO/PM and fellow UX/UI Designer, who was in charge of the internal platform (post-signup). We collaboratively built and refined a design system on Figma working cross-functionally with the company's development team.

Working at this start-up gave me the opportunity to wear a lot of hats, which also required me to stay flexible as tasks can be broad. Here's a summary of my process:
January 2021
Competitive research

Data analysis

Information architecture

Wireframes
February 2021
Style guide creation

Medium-fidelity mockups

Testing and feedback

Visual design
March 2021
Coming Soon page redesign & handoff

Illustrated visuals & icons

Design system refinement
April 2021
UX Writing

Interactive Prototype

Visual Design Refinement

Final Handoff
Want to learn more about my design process for this project?
Schedule a 30-minute chat with me below and I'd be happy to talk more about this project in detail!
Outcome
I delivered high-fidelity interactive prototypes for the employers' and job seekers' landing pages (web/mobile), introductory screens like the About and Pricing pages (web), and redesigned their company's branding and visuals.
Closing thoughts
Designing introductory screens, which would be the users' first impression of a product, felt like a lot of pressure (and was a bit intimidating at first). However, I looked at it as an opportunity to challenge myself since I haven't spent a lot of time on this portion of a product in previous design projects.
Overall, I enjoyed how focused this task was because I was able to refine every aspect in detail. It also made me aware of how articulate I can be while trying to accomplish this broad task and the responsibilities that fall under it.
Key skills I learned from this experience
UX writing, typography/type scale, handing off work to development, use of constraints, auto-layout, and fixed/scrolls on Figma.
What I wish was done differently
It was a great learning experience overall, but since it was a small start-up, I spent most of my time working independently and getting feedback from the CEO and the design & engineering team after my tasks have been accomplished. I would love to experience working collaboratively with a design team, as I think it would give me more opportunities to grow and learn from others.