Trickle
A mobile app that uses music as a medium to measure water consumption in the shower.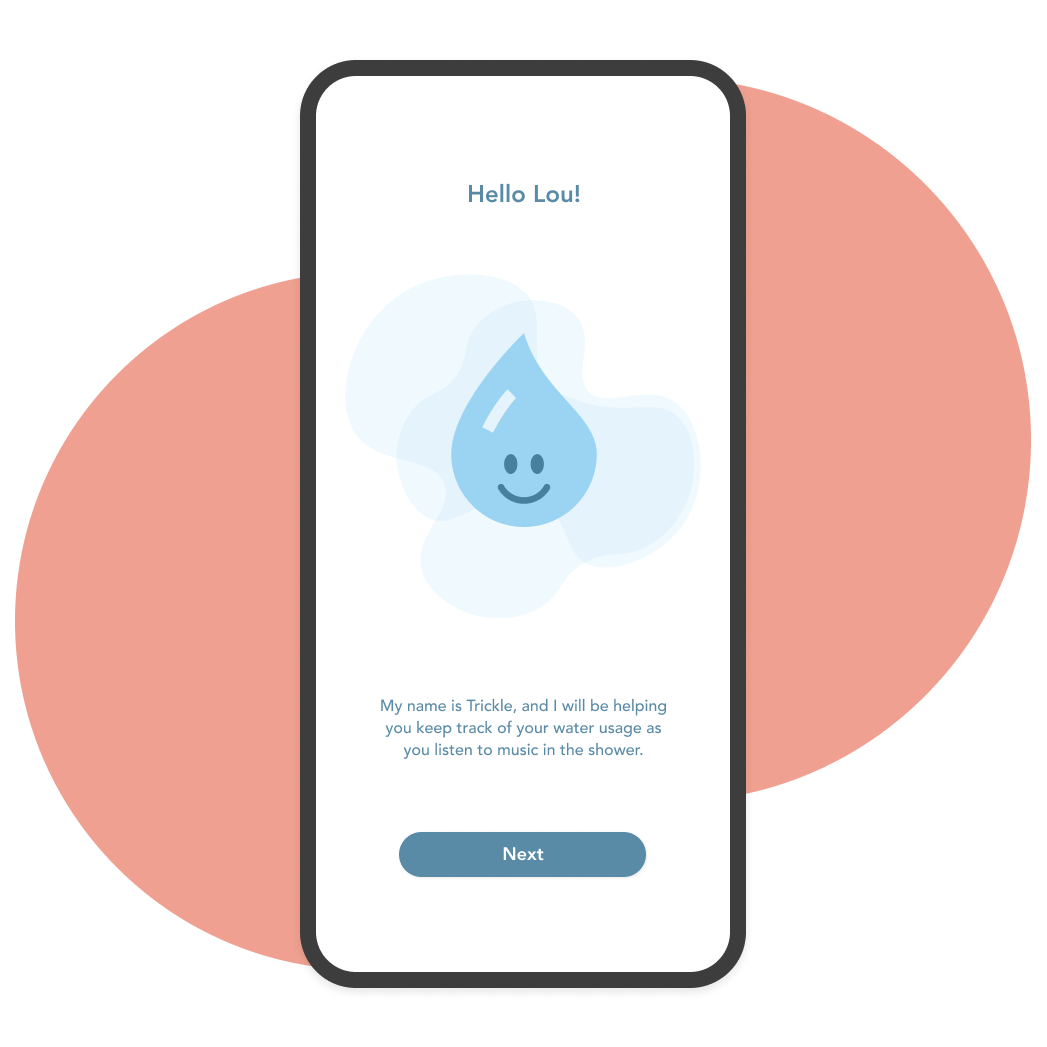 Overview
Trickle was my capstone project at Emily Carr University of Art and Design.
The Product: Trickle is a mobile application that enables individuals to set conservation goals and track their water consumption as they listen to music in the shower.
Target Users: Individuals who use free-flowing shower systems and enjoy listening to music in the shower through their smartphones. This project centers around two co-designers, Margaret and Miguel.
My Role: Product designer
Practices: Human-Centered Design, UX Research, Product Design
Timeline: 12 weeks, January 2021-April 2021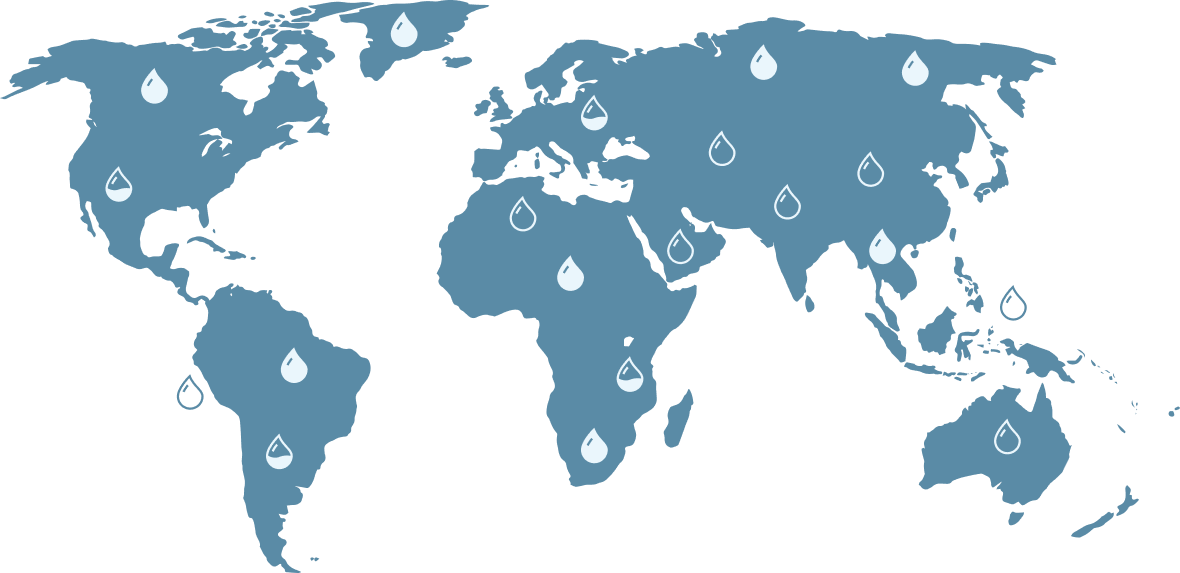 Problem Space
The current free-flowing shower system makes access to clean water extremely convenient, but because of this, people tend to use it more and think about it less.
Despite the ongoing global water crisis, individuals tend to take longer showers than necessary, and the free-flowing aspect makes it difficult for people to get a sense of how much water is actually being used.
Research
Methods: Interviews, Immersive Research
Objectives: Understand people's routines and behaviours in the shower, focusing on duration and consumption awareness.
I interviewed 15 people about their shower routines, focusing on how long they usually are, what they do before going in or after going out of the shower, and if or when they notice that they are using too much water.
Key Findings
These individuals use time to indicate consumption.

Many of these individuals turn their music on before entering the shower.

Individuals who pay for their water or have limited supply are more conscious of their usage.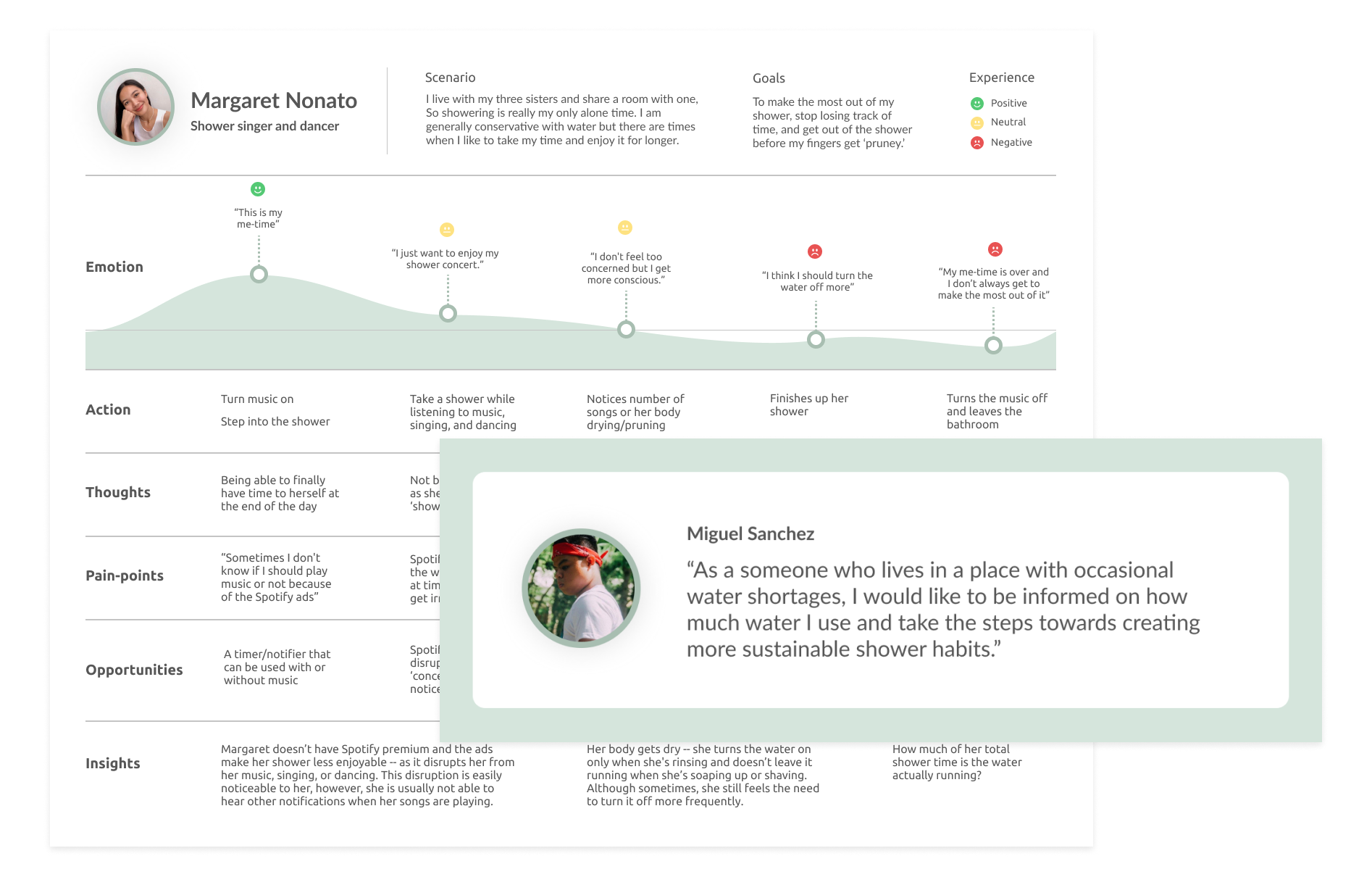 Goals
I defined the project goals based on my research findings.
1. Minimize water usage 💧
Ensure that individuals are mindful of their consumption in the shower and develop a more conscious mindset towards water usage after using the app.
2. Make saving enjoyable ☺️
Find an affordance for users to maintain an enjoyable shower experience while proving effectiveness in minimizing their water footprint in the shower.
3. Encourage continued use 🔁
Validate progress and accomplishment to increase satisfaction and value, encouraging individuals to continue product use.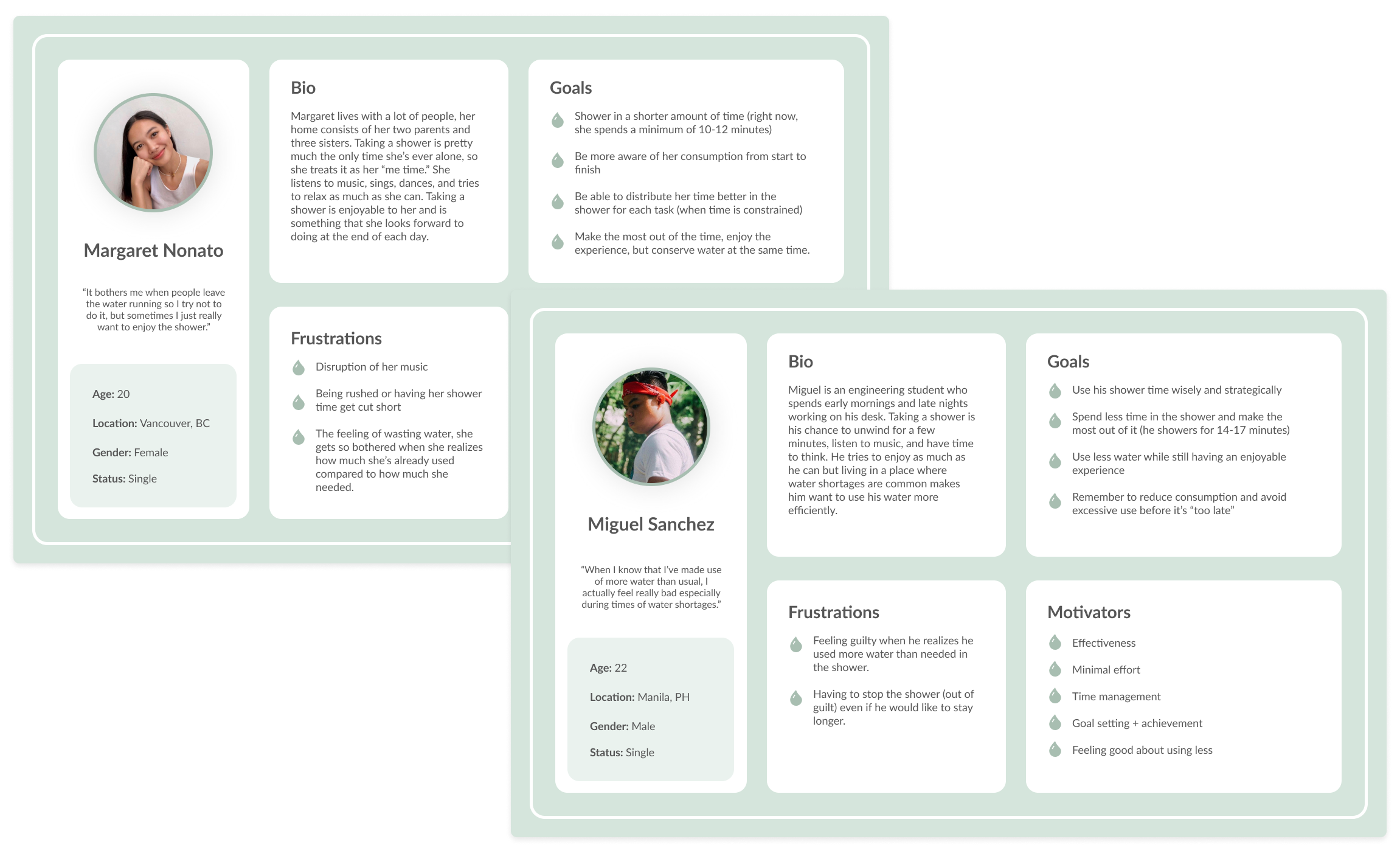 Approach
Since this project would be heavily focused on peoples' behaviours in the shower, I went for a human-centered design approach, as I wanted to focus the process around two co-designers.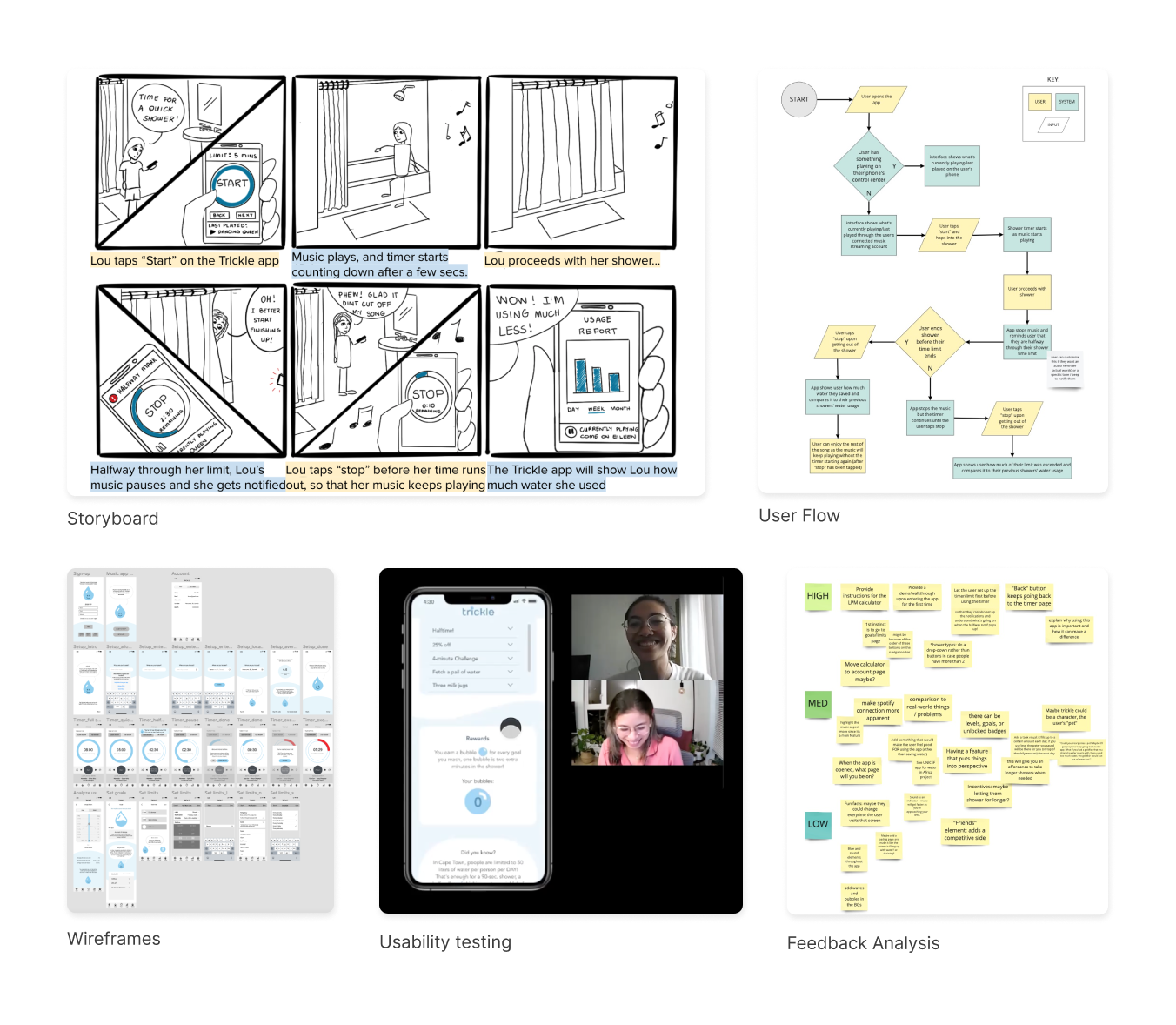 Process
I engaged with Margaret and Miguel through immersive research, user interviews, and user testing. The majority of my design decisions were based on the outcome of those, resulting in a highly collaborative design process.
Outcome
I designed Trickle, a mobile app targeted towards individuals who use free-flowing shower systems. Trickle aims to guide users through reducing their water footprint by enabling them to track their water usage while they listen to music in the shower.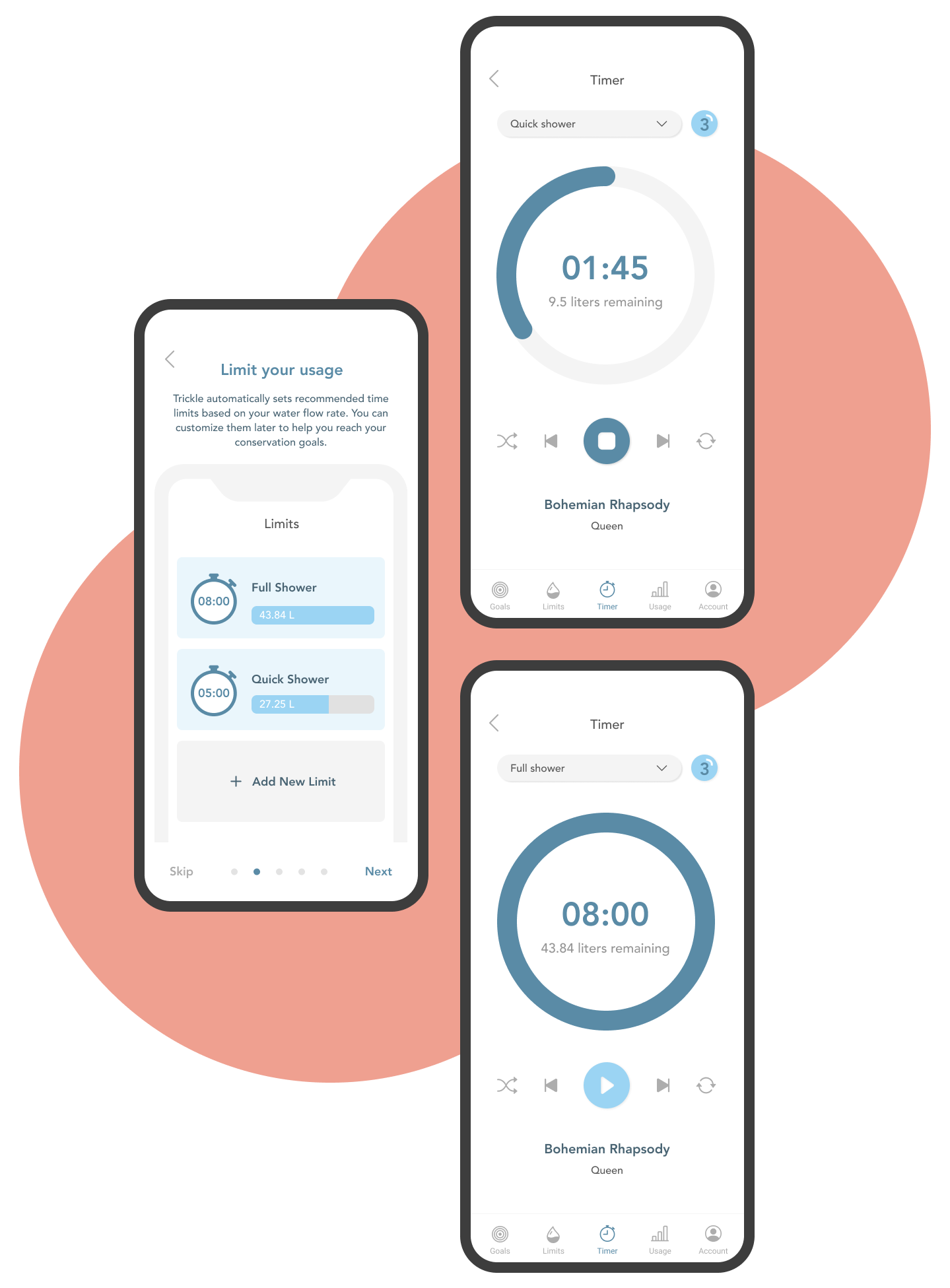 Minimize water usage
Trickle's main objective is to make individuals mindful of the time spent in the shower and have them consciously minimize their usage.

Through immersive research, I found that people are more conscious of what they consume when they are only limited to a certain amount of it. After a series of iterations and tests, I was able to translate this into a feature that enables users to set usage limits within the app.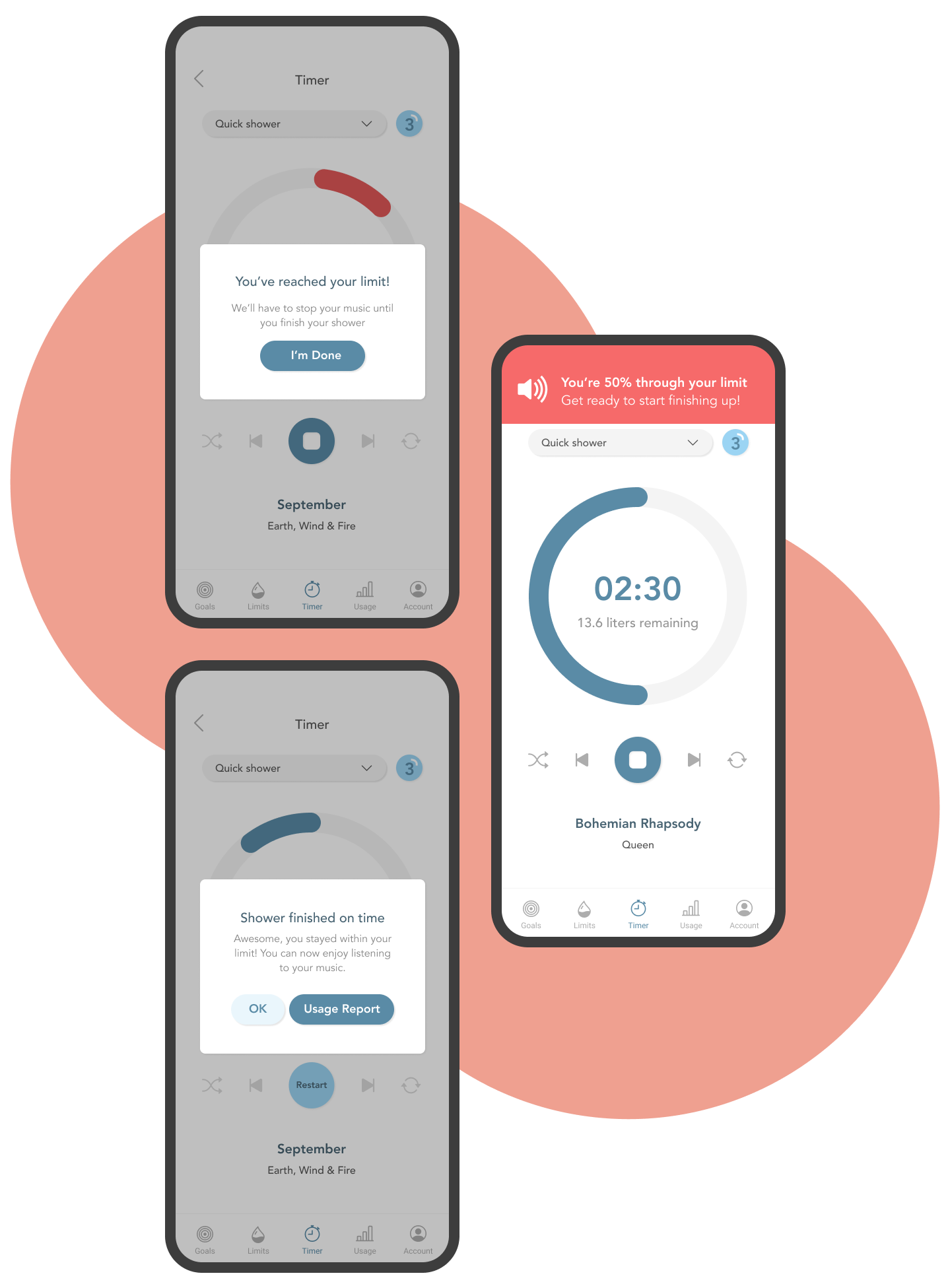 Measure and listen
One of the goals of this project was finding an affordance for users to maintain an enjoyable shower experience while helping them minimize their water usage in the shower.

Trickle uses music as a medium to measure time, as it indicates consumption in a free-flowing shower system while ensuring that shower time can still be enjoyed.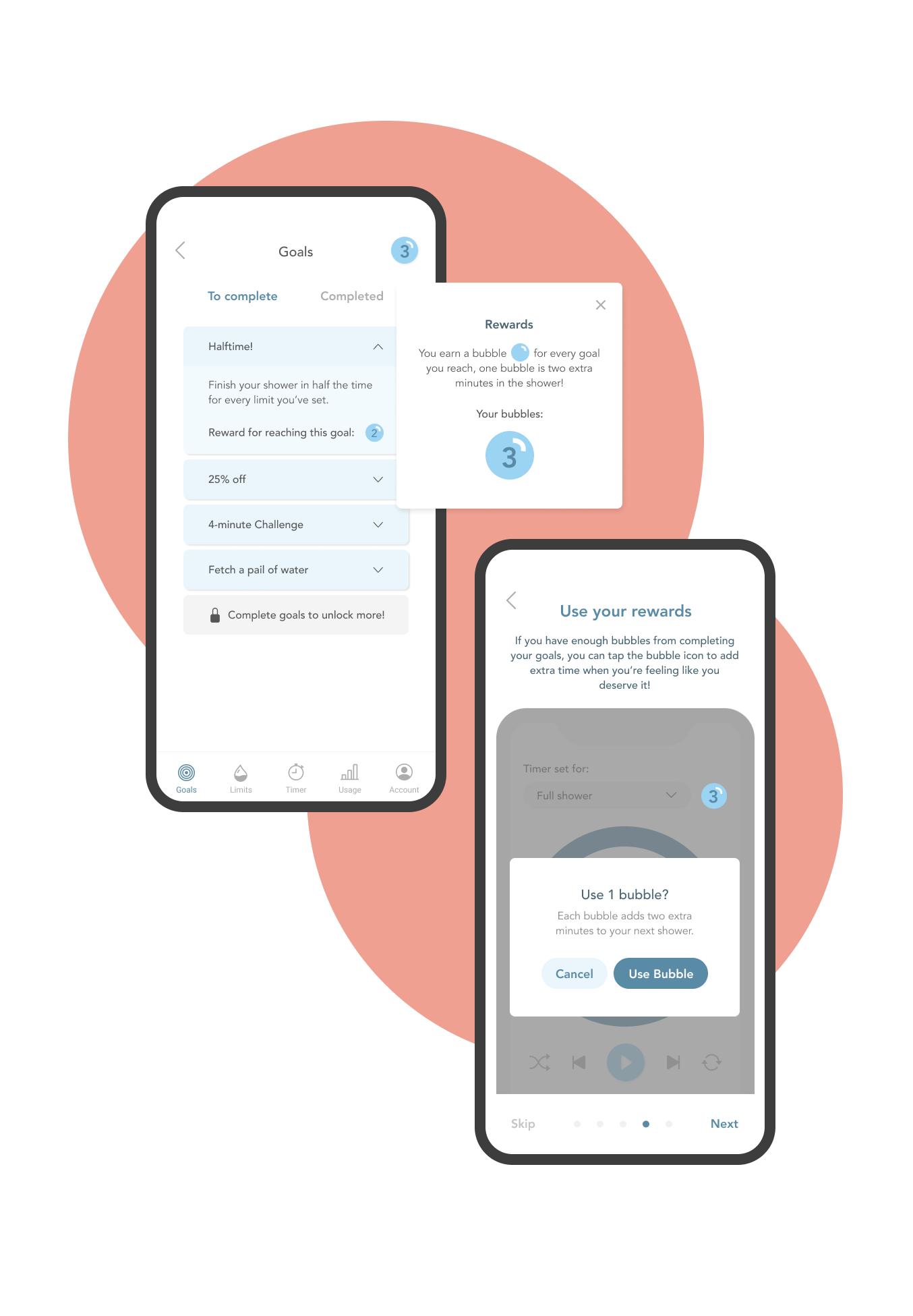 Make saving enjoyable
The reward system within the application enables individuals to occasionally extend their shower time as incentives for accomplishing water-saving goals.

These goals were designed to ensure that users continue to be mindful of their consumption in the shower, be encouraged to keep using the app, and apply a conscious mindset towards general water usage because of the app.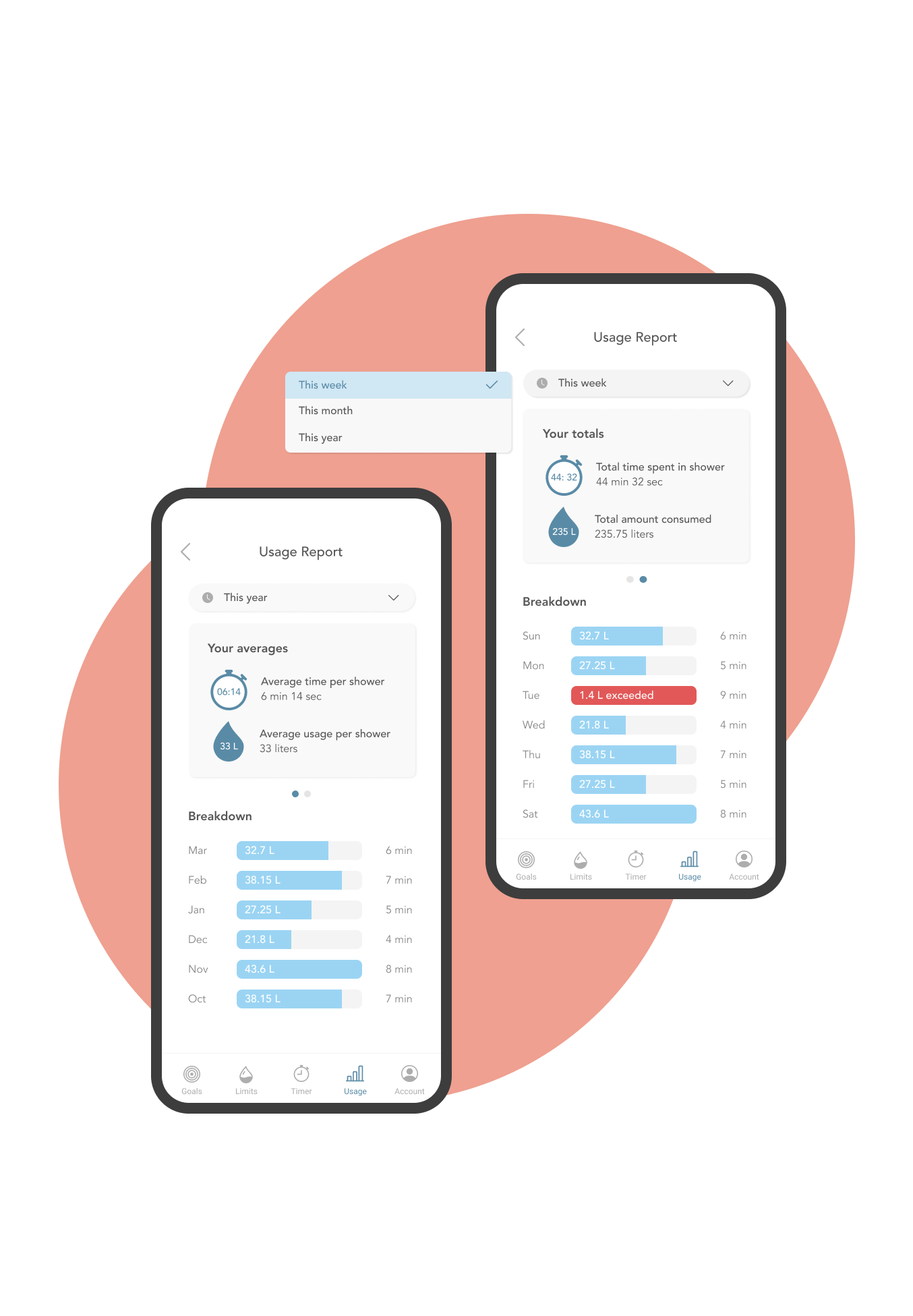 Track progress
When the user finishes their shower, they can view their totals, averages, and usage statistics within the app.

Keeping track of water consumption over time may validate one's progress and increase satisfaction, encouraging individuals to continue product use.

I also wanted to offer a novel approach to data through user-friendly visualizations so that whenever a user finishes a session, they can easily be informed without being intimidated by numbers and complex diagrams.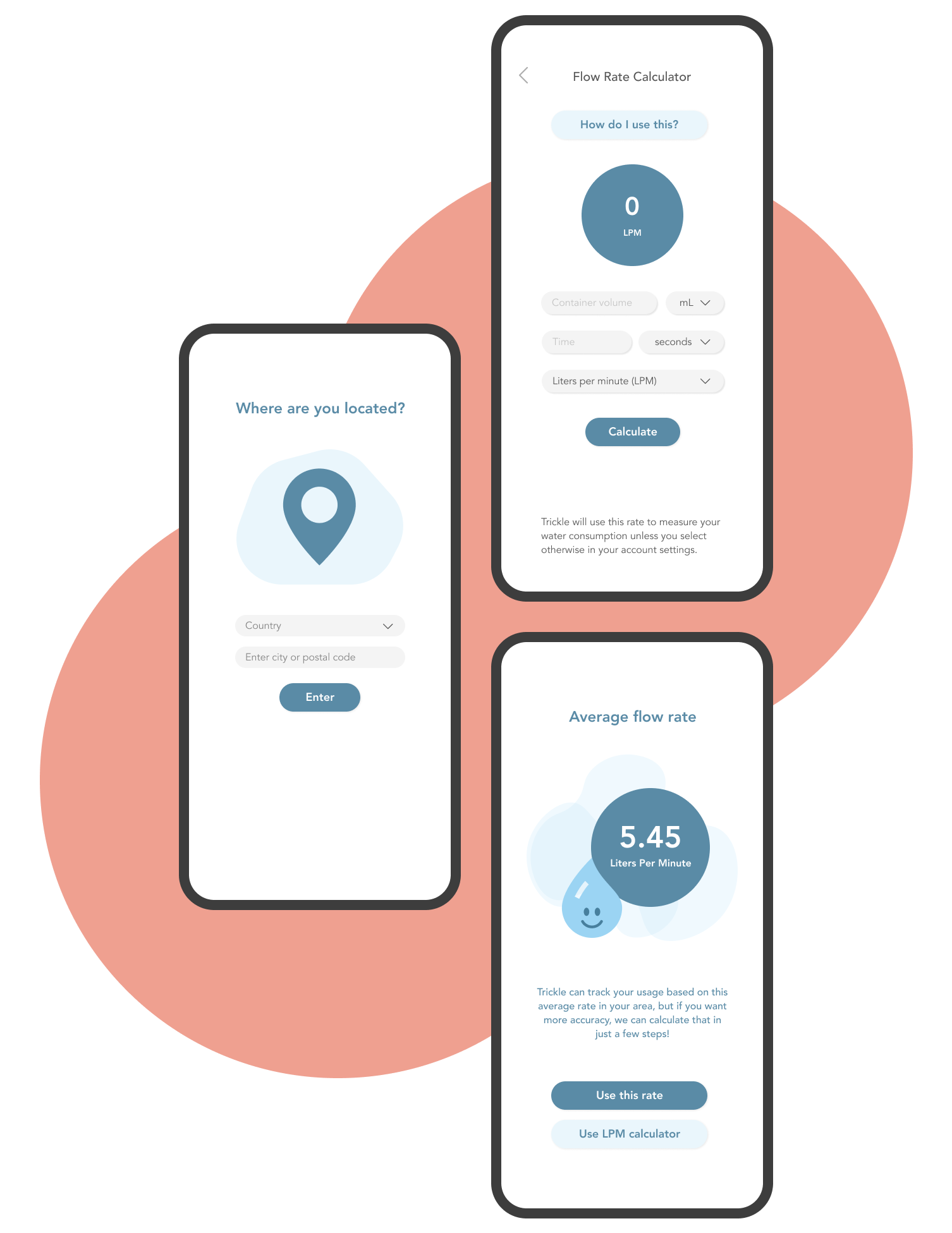 Measure accurately
Trickle automatically sets recommended time limits based on the average water flow rate for a specific location. Individuals can also use a custom flow rate calculator within the app for more accuracy.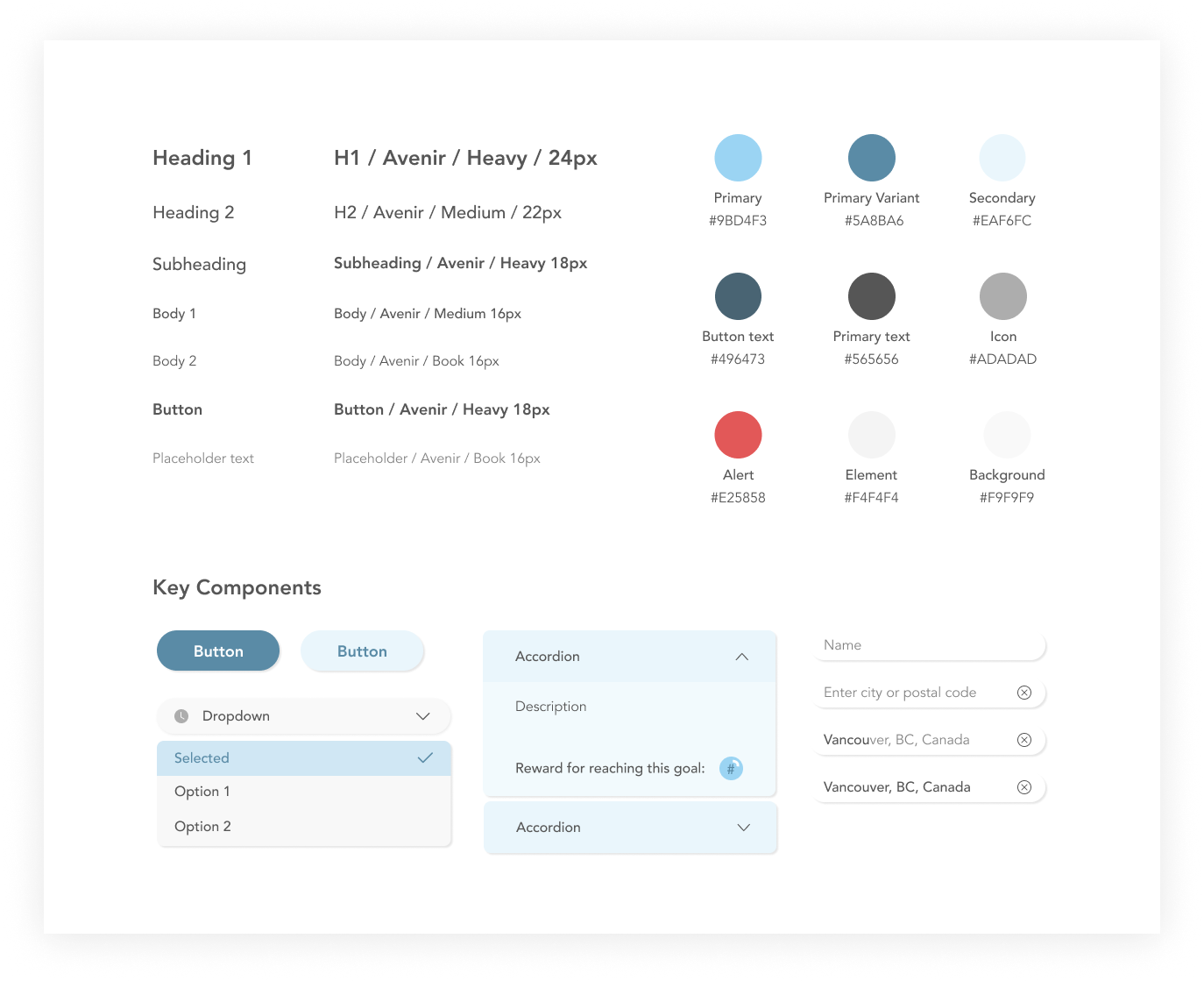 UI Design
Visual style:
I wanted the visuals to communicate use rather than crowding the screens with explanatory text. Through user-testing, I found that text and complex visuals contradict the objectives of the app, which are pretty simple and straightforward. Because of this, I decided to go for a minimal style with elements that are easy to read and identify.
Style guide:
I used the font "Avenir" because it enabled me to implement hierarchy while sticking to a single font. I did this to keep the simplicity and minimalism aspects consistent throughout the app. The primary colour scheme consists of calming shades of blue with grey and white as neutrals. Showering is often associated with relaxation, so I wanted to incorporate those into the visual language of the app.
Interactive Prototype
Feel free to test the Trickle app by clicking through the interactive prototype!
Closing thoughts
Co-design plays a very big part in my current design practice. It introduced me to designing with intent and empathy — which was what got me very interested in UX and Human-Centered Design in the first place.

I found that this would be the best way for me to really focus on designing the full user experience in the shower and then implementing it through a digital product.
Key skills I learned from this experience
Immersive research, user journeys, affinity mapping, usability testing, data analysis, use of text/colour styles, and creating a component library on Figma.