GameJobs.Ninja
an upcoming hiring platform for game industry professionals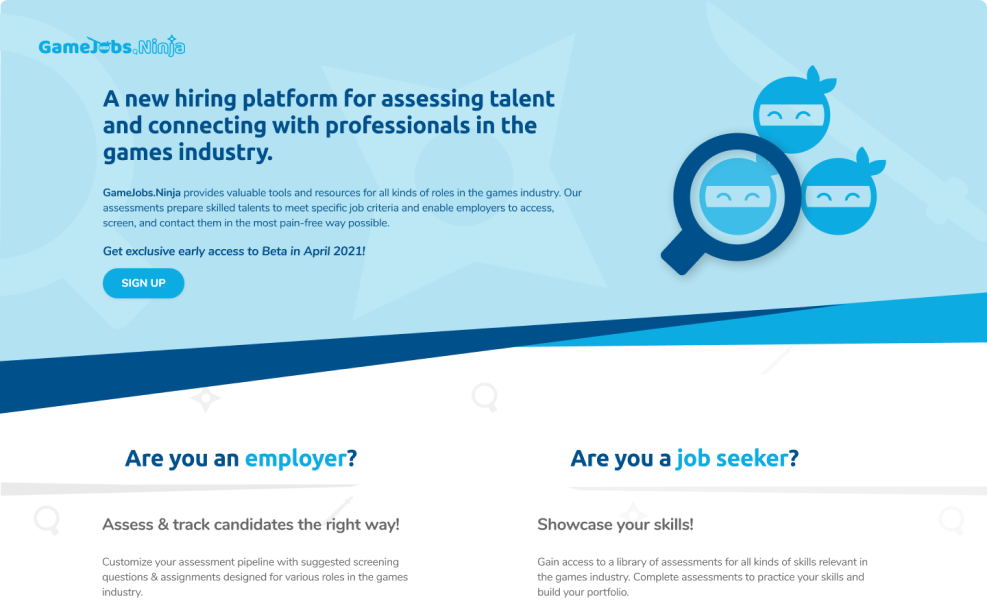 Overview
The Company: GameJobs.Ninja (now known as KatanaHR) is an upcoming Vancouver-based tech startup that aims to provide a one-stop platform for hiring game industry talent.
Target Users: Hiring professionals (employers/recruiters) and job-seekers (designers, developers, producers, etc.) in the game industry.
My Role: UX/UI designer
Practices: UX/UI Design, Visual Design
Timeline: 12 weeks, January 2021-April 2021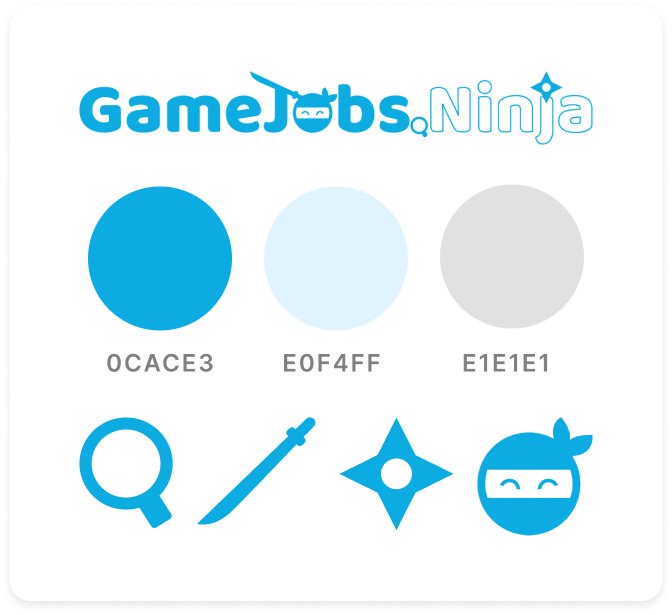 Design Challenge
How might we design engaging landing pages for GameJobs.Ninja's platform to encourage users to sign up?
Existing Design Language
At the time of the project, the team had a limited style guide and design system for me to use and refine.
What I did
Designed landing pages for web & mobile interfaces 💻📱
My role focused on designing GameJobs.Ninja's user experience and visual design for the platform's landing pages and introductory screens (pre-sign up). I designed screens at various levels of fidelity, from skeleton workflows and architecture to polished interactive prototypes.
Worked in a cross-functional team 🤝
On the day-to-day, I designed screens and received daily feedback from the CEO/PM and fellow UX/UI Designer, who was in charge of the internal platform (post-signup). We would have regular syncs to ensure that tasks were aligned with deadlines.
Collaboratively built a design system 🛠
I worked with another UX/UI designer to build and refine a design system on Figma.
Visual Design 🎨
I came up with icons, illustrations, and a new style guide to help make the company's branding more established.
Got to wear a lot of hats! 🙆‍♀️
Working at this start-up gave me the opportunity to wear a lot of hats, which also required me to stay flexible as tasks can be broad. Aside from designing interfaces, I got to work on competitive research, information architecture, illustration, graphic design/branding, and UX writing.
What I learned
Being comfortable won't let you grow 🥀
Designing introductory screens, which would be the users' first impression of a product, felt like a lot of pressure (and was a bit intimidating at first). Now that I finished taking on the challenge, I realized that I wouldn't have gained much out of this experience if I stuck to doing something I already knew I was good at.
Dig deep, but know when to stop ⏱
I enjoyed how focused the landing page task was because I was able to refine every aspect in detail, however, it was making me a little obsessed with perfection. I learned to know when to draw the line, realizing that nothing will be permanent, especially in the technology industry where things are constantly being updated.
Be flexible 🤸
Working in an Agile start-up environment taught me how to be flexible as responsibilities can move around and manpower is limited. I learned how to prioritize tasks and manage my time better to meet deadlines.
Auto-layout is a game-changer 🙌
As someone who learned Figma through self-teaching and YouTube tutorials, I didn't have anyone introducing me to new tools until I started working here. Auto-layout has sped up my workflow and ensured that my alignment stayed consistent.
Outcome
I delivered high-fidelity interactive prototypes for the employers' and job seekers' landing pages (web/mobile), introductory screens like the About and Pricing pages (web), and redesigned their company's branding and visuals.
Want to learn more about my experience designing for a start-up?
Schedule a 30-minute chat and I'd be happy to share!